Rudder flaps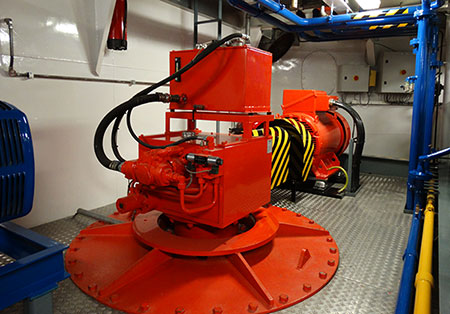 In inland shipping it is common that this new ship will be equipped with 2 thruster installations, of which one regularly runs during sailing. Because running one of the thrusters leads to a lot of extra fuel consumption, the ship is equipped with 2 rudder flaps, which are placed at the bottom of the bow.
Without use of the rudder flaps system, the thruster is used a lot during sailing. Because of the wind catch and because the rudder flaps are turned on while making turns, a lot of operating hours of the thruster are saved.
The rudder flaps are driven by hydraulic cylinders. When moving up and down, the rudder flaps use 3 kWh. After this, the installation will not be moving anymore. The average use with a conventional driven thruster contains approximately 55 liters per hour. Because the generator is already running on the maximum rpm, an electro engine accelerates faster than a diesel engine, if the thruster will be necessary after all.